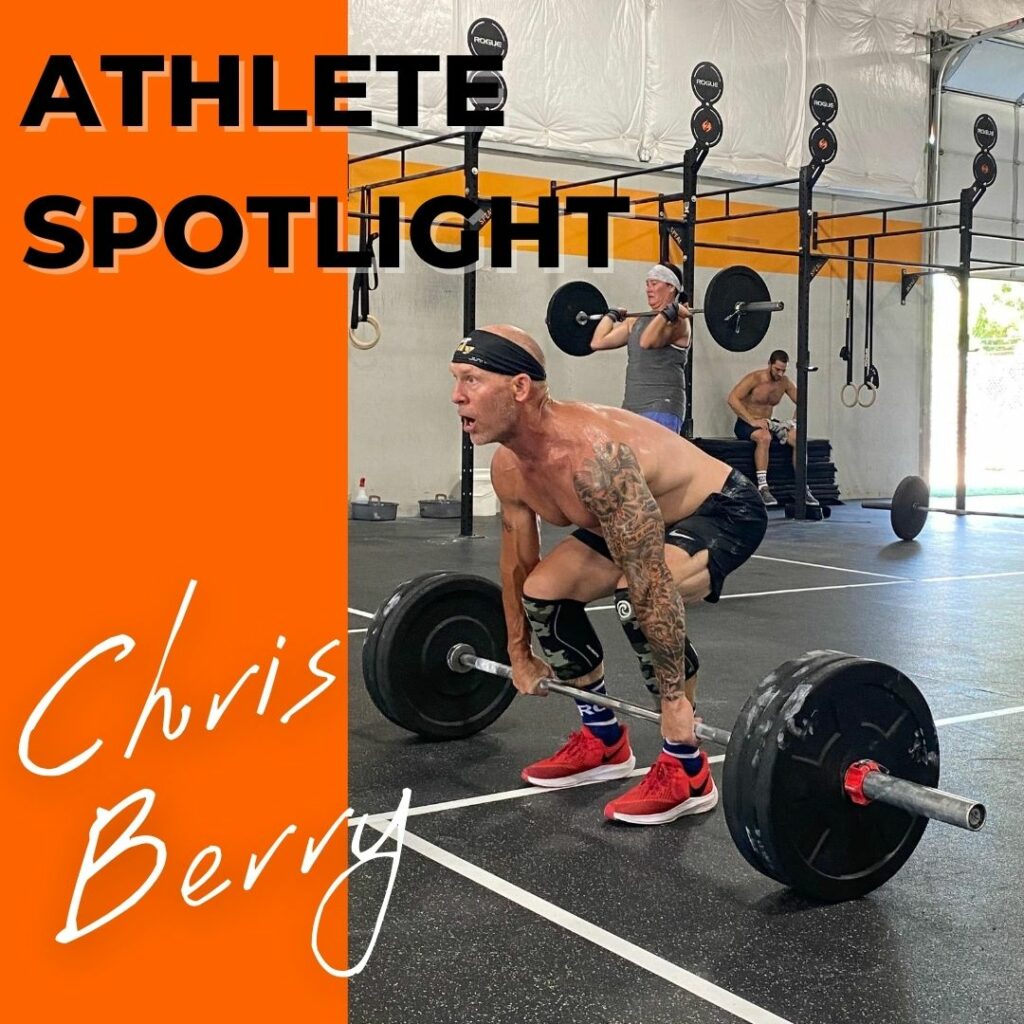 At Fireside, we will never be one to tell you what your limits are – we want you to find them for yourself – then push past them.

One of our members, Chris Berry, is the epitome of a guy with an active lifestyle and has quite the impressive athletic resume. He is also proof that our setbacks don't have to keep us from bouncing back – and it's never too late to pick up new hobbies, try new skills, and set new goals.
If you've gone through physical pain or suffered from lack of self-confidence, Chris's story is for you!
What was your fitness/active life like before joining CrossFit?
I have been a competitive athlete all my life. My competitive career started with baseball. I went on to wrestling and traveled as a U.S. representative wrestling in New Zealand and Fiji when I was a junior in high school. I even beat the NZ national champion!
I moved on to bodybuilding in High School and eventually won the overall Mr. Idaho Bodybuilding Title in 1993.
After I became a Boise Police officer, I went on to win the World Police and Fire Games in Calgary Canada in powerlifting in 1995. I was the Idaho State title holder in powerlifting in Idaho in 1995. I have personal best squats in competition of a 720-pound bench, a 500- pound squat, and a deadlift of 615 pounds.
After many surgeries (I believe over 10 now), including three back surgeries and two knee surgeries, I decided to take up the sport of bike racing. I am a category 2 bike racer who specializes in racing criterium bike races – I have won the Twilight Criterium in Boise, the Tour of Walla Walla Crit, Idaho State Championships, and many more.
In my spare time, I'm an avid and expert snowboarder, and I also love wakeboarding, golfing, fly fishing, and hunting.
How has CF changed my life?
Prior to CrossFit, I was overweight, in lots of pain, and lacked self-confidence. Now I run, bike, and CrossFit like I am 20 years younger! I lost 25 pounds and the knee pain and shoulder pain I suffered through are gone.
I have accomplished CrossFit movements I never thought I could do. I literally thought there was no way I could jump up on a 24" box or run a mile. And I now have the confidence to take my shirt off in public. I cannot believe I even take my shirt off in workouts. When I started coming to classes, it horrified me when I saw guys doing this during CrossFit workouts.
At 54 years old, I am a new man.
My future goals?
I have many. As a lifelong athlete, it never ends. Now that I am a Crossfitter, I want to be one of the top 50 Master Crossfitters in the world. Actually, that's conservative – I truly want to be in the top 20. To be honest, I really want to be in the top 10. I think Fireside can help me accomplish this.
What is my favorite movement?
I would have to say the clean and jerk. As an ex-powerlifter, lifting a lot of weight is impressive to me; however, the clean and jerk is a complicated movement that takes time to master. It's power, strength, technique, coaching, desire, and hard work all put into one lift. I never dreamed I would be doing this lift until becoming a Fireside member.
My hardest part of the journey?
To be honest, just going can be the hardest part. It tests what you have mentally and physically every workout. Driving to Fireside is not easy, but when you're done, the sense of accomplishment keeps you coming back for more. Results do not come without hard work!
What keeps you coming back?
The RESULTS. You simply see gains and results weekly and monthly. As humans, we want the easy way out. But if you are willing to put in the work with CrossFit, you will achieve results.
I can now jump up on a 30" box. I have done 100 handstand push-ups and when I started Fireside, I couldn't even do a handstand. I have done 100 pull-ups and when I started I could only do 5. I have run 3 miles and when I started I could not run 800 meters. With all that said, I do think Fireside has a special blend of quality ownership and coaching that makes the process more efficient.
What do you love most about Fireside?
First is the people. I have never in my life gone to the gym and interacted with people. Fireside encourages meeting and greeting fellow athletes (to be honest what I am not about). I have to admit, I did not like this at first. "Lets just workout" was my motto. I simply could not believe the second day I walked into the gym I was addressed by my name. This was shocking.
The owner is a combat veteran serving several tours for our country and I am truly indebted for life to him protecting our freedom. I have a simple obligation that I must give back to those who protect us from destruction. Ben and his wife are true heroes, and Ben has a unique way of pushing me to be fitter, stronger, faster, and strive to meet or beat my goals.
What advice do you have for people who are on the fence about trying CrossFit?
I am a 54-year-old guy who lost 25 pounds training at Fireside. Prior to CrossFit, my wife and daughter laughed at me for having a beer belly. Well, it's gone now. I feel healthy, fit, and I have self-confidence I have not had since 1996. CrossFit is what we all need because it's tailored to your fitness levels, and the Fireside coaching staff works with your unique abilities and injuries so we have no excuses.
Why join Fireside CrossFit over any other gym?
The owners of Fireside simply care. Fireside is a whole package facility offering CrossFit, weightlifting, and nutritional counseling and they are motivated by your results. The owners simply want to see you succeed. It's not easy having a combat veteran giving you orders, but you know if you follow them, you will get results. The owners of Fireside are simply great people – Catie is a kind person who knows the fitness industry and Ben is someone I respect and am thankful for. Both have been competitive athletes who know and study their craft.