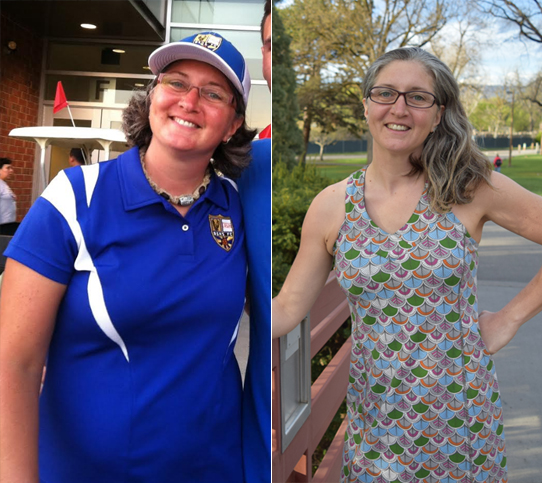 My relationship with crossfit began exactly two weeks after Memorial Day 2014. Our son played rugby with Nakahi RFC and the coaches began to encourage the boys to participate in crossfit during the off season. I had heard of crossfit but didn't really know what it was all about. A couple, new to town, invited the boys to a free "Hero" workout at a local park Memorial Day weekend. Aaron, our son, came home afterward and told us how horrible it was, but assured us he did it. There must have been something to it because the boys were given an open invitation to come to the park, every Saturday morning throughout the summer, and to bring their family and friends. In order to find common ground with our son, my husband Tim, made the decision to go with Aaron the next weekend. Even our daughter, Amber, got in on it. They all came home telling me how hard it was, but that I should go with them the next weekend. I was perplexed by the notion of anyone wanting to return to the scene of "horrible" and "hard", but they did, and they wanted to take me with them! And so it is, my story begins, Memorial Day 2014
I am an athlete. My sport is soccer. Oh sure, I played every other sport too; volleyball, basketball, a high-jumper on the track team, rec softball, but soccer…that's where it's at for me. I have loved it since I first saw it played when I was 9 years old. My family traveled out of state to visit family. We went to watch my cousin's soccer game where he was the goal keeper. Afterward, I told my parents, "I want to play that." About the end of my first year playing, I began to have pain in my knees. I went to doctors who gave me anti-inflammatories and knee braces, with physical therapy thrown in for good measure. They all chalked it up to how fast I was growing. At one point a doctor diagnosed a genetic disorder causing most of the pain. Apparently bad knees run in the family. He actually told me if I didn't stop playing sports I would be in a wheelchair by the time I was 18. Wow! What a decision for a kid to have to make. For me, it didn't take any time at all to make that decision. I would rather go out doing what I love than to sit on the sidelines for the rest of my life. When I began playing college soccer, that decision came back and hit me in the face. That is when I had my first of two surgeries on my left knee. The first one got me 10 years, and my second one a few years shy. I didn't stop though; I went from college soccer to adult rec soccer. Finally, in 2009 I put soccer on the back burner. I always dreamed I would get back to it, but the pain in my knee was getting to be too much. Now added on top of the genetic factors, the doctor found bone spurs and osteoarthritis. Things had gotten so bad that I had 50% less muscle mass in my left leg than I did in my right. I went to physical therapy for a couple rounds of treatment, but in the end I would hit a wall that seemed insurmountable. Until Memorial Day 2014.
I am an athlete. My sport is soccer. Did I mention my ankle? While coaching high school JV girls' soccer, during practice, while playing defense, I rolled my ankle. How bad was it? Torn ligaments and damaged cartilage. After a year of treatment, the decision was made to go in and repair it, so surgery was scheduled for December 18, 2013. After surgery I was two weeks in a cast, then two weeks in a boot, all the while on crutches. Another week in a boot without crutches. Three months in an ASO brace for all activities. Another month in an ASO brace for activities outside the house. A month wearing an ASO brace for physical activities, with no lateral movement allowed. And finally, an ASO brace for competitive physical activities. By late spring, I was released to full activity even though it was weak and still swelling whenever I was on it for too long at a time. Until Memorial Day 2014.
As you can imagine, while my family was cajoling me to go to crossfit in the park with them, anxiety and fear welled up inside me. The idea of running or squatting or burpees or whatever this crazy thing was all about, made me cringe. I had trouble standing up from a chair and climbing stairs, how in the world could I even entertain crossfit?! They each reassured me that everything would be fine, because the coaches were awesome and could scale any movement for me that I wasn't able to perform. Reluctantly, and with much trepidation, I went with them the following Saturday. I don't like to complain, and I don't want to be seen as wimpy or a whiner, so it was hard having to tell these people, who I didn't know, about my limitations. I am an athlete. I was sucking air during the warm up, thinking I was going to die, and asking myself how I got so out of shape. Like I said, I am an athlete. We got to the point in the workout that required air squats. Squats and I are not friends. Remember, bad knees. I'm not sure, but I think Catie may have seen me wince. At that moment, she gave me one bit of coaching that would change everything. "Feet shoulder width apart. Toes slightly flared out. Knees out towards your toes." My knees were still uncomfortable, but that little change in position made the movement tolerable. I wasn't sure if I would, but I survived, but to be honest, the next day I wish I hadn't. The pain in my body was so bad it hurt to roll over in bed. My precious husband's remedy….go to the park, on our own, and do tabatas. I didn't at the time, but in hindsight, I am so appreciative of that remedy. I felt awful but, Ben and Catie's coaching advice to "just keep moving", got me through. Once Ben and Catie opened their own crossfit gym, Tim and I became founding members. The workouts became different and more challenging, but not unachievable-challenging, but push-you-to-more challenging. What are some things I like most? Coming from a team sports background and always having a coach telling me what to do and how to do it, I enjoy the class structure and atmosphere; it gives it that "team" feel. I like having a coach who teaches correct form in movements, and who creates a workout so I don't have to figure out what to do. It only takes an hour out of the day. It's encouraging that the coaches continue to scale the workouts in progressions that allows me to learn, and gain strength, without putting added stress on my knees. What benefits have I received from my relationship with crossfit? My legs have nearly the same muscle mass. I can, for the most part, get out of a chair and climb stairs without pain. I have lost over 25 pounds. I continue to progress in workout movements, am getting stronger and fit, and am gaining strength and improving balance. And, for me, what's best of all…….I am back to playing soccer!
CrossFit Fireside, Coach Ben and Coach Catie, you have blessed me beyond measure. Thank you!